Maximize Your Exposure on LinkedIn Marketing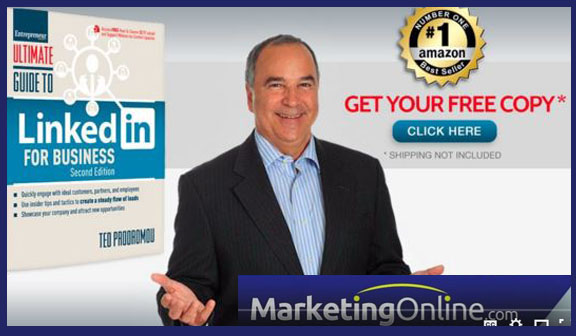 Maximize Your Exposure with Linkedin
LinkedIn is a golden road to quality leads, third party endorsements, traffic and relationship building. We had over 21,000 views on the Video from our live simulcasted event with Marketing Online and Ted Prodromou, author of "The Ultimate Guide To LinkedIn." The results of simulcasting proved to be powerful. Social interest and engagement from Ted's connections to the LinkedIn post housing the replay of the Live training from Alex Mandossian and Ted Prodromou on "How To Maximize Your Exposure Using LinkedIn Marketing" was a success. The idea that using simulcasting to reach huge sums of traffic on multiple channels live and then post the live event double, triple or quadruple the amount of views on the video by sharing on multiple social networks using the Marketing Online tried and true Roadmap system.
Did you miss the first event? Watch it now: https://www.marketingonline.com/blog/2015/11/30/how-to-use-linkedin-linkedin-marketing/
LinkedIn Marketing
In order to create a great marketing strategy for Online Marketing, Pick one thing. One central location to send the traffic to and one Topic Of Influence.
What is the one thing that every entrepreneur requires in order to grow? What is the one thing that every business owner or Serial Entrepreneur needs to grow their list? What's the one thing that could lead into a lasting legacy for generations to come? What is the one thing that provides you the raw material to become a social influencer in your area of expertise…
That one thing is exposure–VISIBILITY!
Using LinkedIn for Business
If you are a marketer, serial entrepreneur, brick-and-mortar business owner, author, speaker, coach you need more of it and in the Online Marketing Niche we like to think about visibility as "marketing reach."
"There is always a button between you and influence." – Alex Mandossian
Getting more exposure on LinkedIn, like anything else it takes putting in the work to reap the rewards. The purpose of your business is to have lots of "multi-buyers." Whether you are a Speaker, an Author or a Trainer…
Or perhaps as you are reading this you are someone that certainly wants to be…
Then you know better that anyone how important exposure can be…
What we discussed today was exactly how we repurposed one live Google Hangout that was streamed onto a LinkedIn Post, and later syndicated into an: iTunes podcast, periscope session, e-book, other video, written word or transcript and put out Online (what we would call marketed) everywhere on the web that our target demographic enjoys spending their time on using the "Hub and Spoke methodology" that we teach each and every one of our students at MarketingOnline.com.
Master The Game of Exposure and Take The First Step In Shifting Your Business Into HIGH GROWTH MODE: http://www.marketingonlinementor.com
In this Linkedin Training from LinkedIn Expert Ted Prodromou, today we reveal how to simulcast using LinkedIn for 2 to 10 times the normal traffic channels that attend your live events online. Ted Prodromou proves that using the Marketing Online Roadmap system coupled with simulcasting can have dramatic impact on your bottom line.
His sales are up, his book sales are up and as a student of the new Beta Program, Push Button Influence, Ted Prodromou has a bright future with a wide lane and a broad online marketing stroke to build massive exposure for his brand. Learn More about Ted by watching a replay of this mastermind episode of LinkedIn Marketing.