Productivity Secrets for Entrepreneurs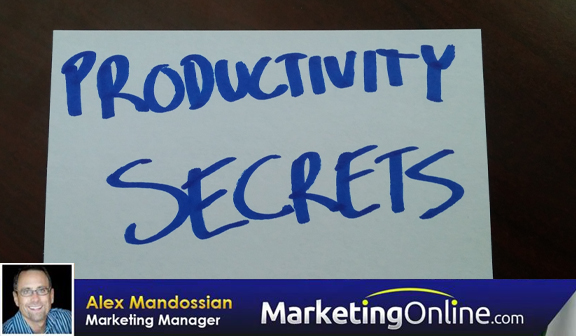 Being productive comes down to 5 Secrets To Productivity and we want to share them with you, to make you a more productive person in your life and in your business!
Are you ready? Great… Let's get committed to putting an end to distraction and take back your most precious asset… YOUR TIME. Time Management and Multi-tasking are bull! They are two of the biggest myths in business, yet so many companies refer to these two items as key indicators on how productive people can be in their day. Why is that? Well they have not been introduced to the power-hour!
Here are 5 Secrets for Being More Productive In Your Day
STOP the distractions!
As nice as you are, learn to say NO sometimes.
Write Down Your Schedule By Pre-Planning Your Day The Night Before.
Get COMMITTED to the schedule that you wrote and keep it.
Learn to utilize a countdown timer and IMPLEMENT the POWER-HOUR.
Productivity Secrets
Distractions are the #1 cause of not "getting things done" and it needs to stop immediately or you will never succeed at being productive. Getting back your time to be productive starts by eliminating distractions. If you want to be productive it is best to plan the time in your day, for every day of your week that you will be doing power-hours. The distractions come from social media, your phone, text message, Facebook messenger and hundreds of places every hour each day of your life. BUT, they need to STOP, and it needs to happen now!
Eliminate the distractions by choosing your most productive time of the day, when your mind works at peak performance and use that time to be laser focused on what you have scheduled for yourself to do. Don't stray from it, get unplugged from everything else around you including your phone. If you need to get a clear mind's eye and focus we recommend taking 5 to 20 minutes for meditation before you begin working.
Why You May Be Loosing at Productivity As An Entrepreneur
Learn To Say No! There is a time and a place for everything, but if you have trouble saying no to people and allow them to make their "urgent problems" your problems, then you are sure to suffer from the problem of distractions and more importantly you are trying to serve everyone when you don't have time for the key things most important in your life and in your business. Either you are not valuing your time properly or you are allowing other people to take away your attention from what is important to concern yourself with their time-sucking problems. It needs to STOP if you want to get productive.
Plan your day and your weeks out in advance, so that on the day of you have nothing to think about except doing what you assigned yourself to do. DO those items in the specific time frames that you have written down you would commit to working on them. DON'T Stray from the plan. Take the time to block out hour long sessions or 30 minute sessions in your pre-planning schedule and stick to it. If not, you cannot be productive!
Getting and being COMMITTED to your schedule and your level of awareness to continually eliminate distractions is key to being more productive in your day. There are only 24 hours and of that you likely commute some of those hours, and you sleep and eat and breaks are okay, so what does that leave? Maybe 16 hours max for the average entrepreneur? Is 16 hours enough to get 6 hours of work done in one day? YES it is. You just need to pre-plan how you will use those 6 hours to be most productive and at your peak performance for your mind and body.
Productivity is easy when you implement the POWER-HOUR.
Here's the #1 Secret to Being Productive in your day:
Introducing the one thing that can pull you out of an UN-productive state and that is:
THE POWER HOUR or Hours of Productivity that you plan for your day.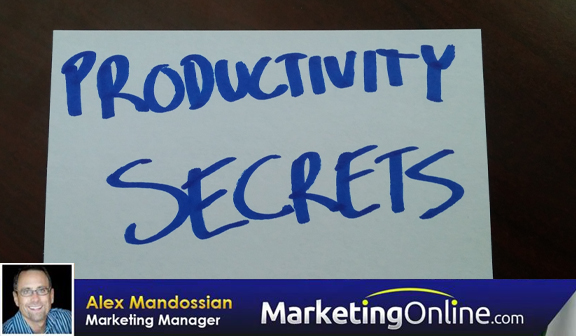 Here's how it works:
Outline 1 hour and 30 minute scheduled blocks of your time for your day. Each 30 minute or 1 hour power hour scheduled can include up to 15 minutes of scheduled break times. If you have a power hour scheduled from 10:00am to 11:00am to work on task #1 and you allow yourself a 5 minute break and a second 5-10 minute break you will find the amount of work you get done in that 30-60 minutes to be highly efficient and more productive.
The key to productivity using the power-hour is to be unplugged from distractions and to stick to your schedule. Use a sand hour glass or half-hour glass or a digital timer (not your phone) to track your time so that you keep each task in the perimeters of the power-30 and power-hour sessions on your schedule. Do Not Stray!
Now You Can Solve Your Productivity Problems and remember that these aren't just 5 Productivity Tips…
This is how I became the Productivity Guy!
I appreciate that you took the time to take some action and read more about how you can become more productive. I look forward to publishing many more posts to help you and I want you to have something that took me over 25 years to learn and I promise you can read it in just 30 minutes or less, but it will have a huge impact on your life and your productivity. Please click here to get access to my book Alexisms, it is a gift that I know you can appreciate. https://www.marketingonline.com/alexbook