Productivity Guy Secrets Revealed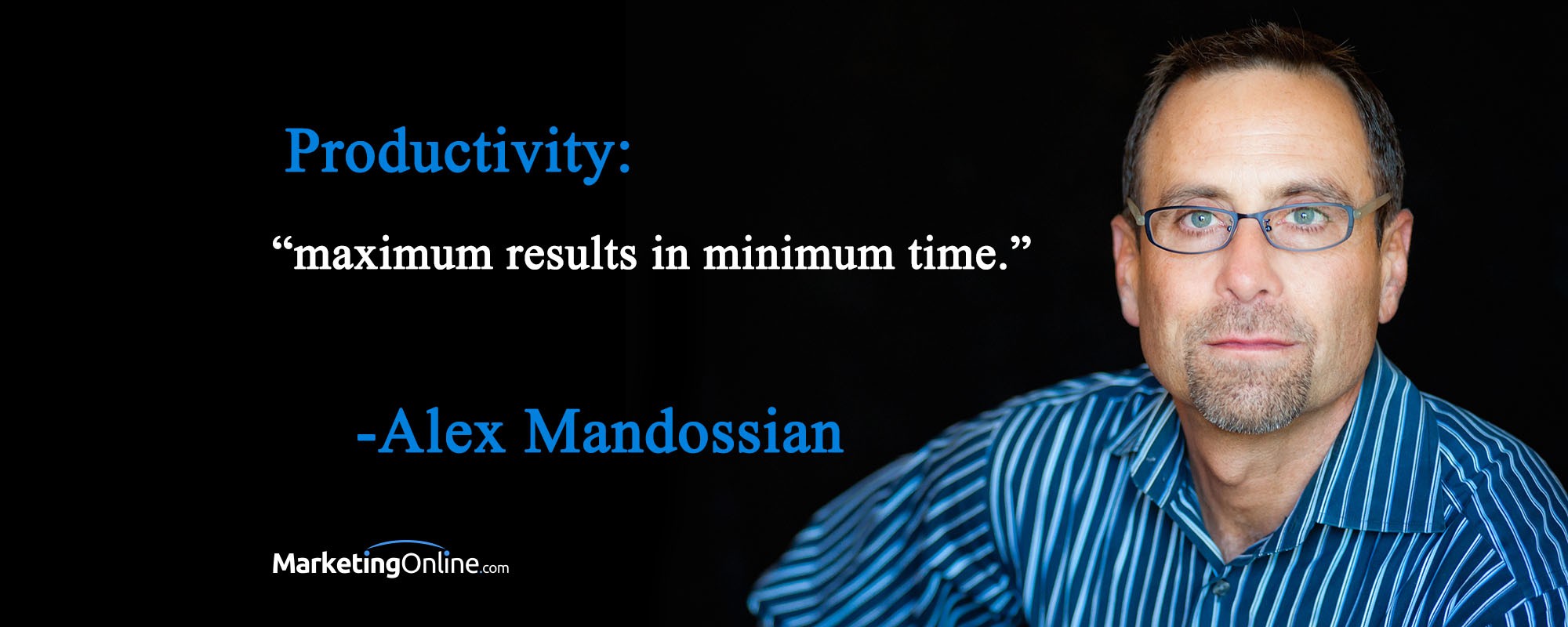 Productivity Guy Secrets… The Productivity Guy is at it again and this time we hope that you're ready to learn the Productivity Secrets that we have for you!!
Productivity is not a secret and it is not magic, but it requires learning the Productivity Secrets and the PROVEN methods that we teach… The same methods that made Alex Mandossian into a productivity expert, a.k.a. the Productivity Guy.
How Productivity Works: Being Productive starts by cleaning up the messes, being committed and making advancements.
The key to being as productive as the "Productivity Guy" is moving the needle each and every day.
"Passion does not produce commitment, COMMITMENT produces passion." – Alex Mandossian
Productivity starts by being committed. As a Serial Entrepreneur or a Brick-and-Mortar business owner, Consistency is key, so don't slack. As they say in the biz, do "WIT."
You have to do "whatever it takes" to succeed and that means moving the needle daily.
Productivity is about being relentless in taking action, slaying the two headed dragon of perfectionism and procrastination. Productivity requires taking ownership in your actions and being committed to keep moving the needle every day.
Don't stray and don't stop.
If you are bogged down with distraction, then you cannot be productive.
Distraction and clutter is the enemy of productivity.
If you want to master productivity then the best place to start is by cleaning up the messes.
If the messes are everywhere in your life and in your business, (physically and mentally) in your home, office or business then you cannot perform. And, if you don't have time to clean up the messes, that's okay.
Chunk the messes down into manageable piles and set aside some time each week to clean up one at a time.
Stop letting distraction and messes bog down your willpower… It will cause a lingering amount of failure and prevent you from doing your job.
The messes in your life (physical and mental) are sucking your willpower.
Productivity Guy Secrets
Productivity Guy: Secret #1
Messes are preventing you from operating at full capacity. Chunk Down The Messes in Your Life.
Productivity Guy: Secret #2
Recharge Your Willpower. Turn Down the Pressure and Noise that is sucking your willpower dry.
Productivity Guy: Secret #3
Have a consistent schedule and stay committed. One degree of change every day makes for 365 degrees of change in a year!
Productivity Guy: Secret #4
Be committed, Stay Committed. Remember the commitment produces passion. You cannot have fire, until you gather the wood that allows the fire to burn.
Productivity Guy: Secret #5
Use a countdown timer to stay on point and eliminate the wasted time spots in your day.
If you look back at your day, chances are that you are failing at one of these 5 Productivity Secrets.