How to Sell Your Services Online — Three Myths of Digital Marketing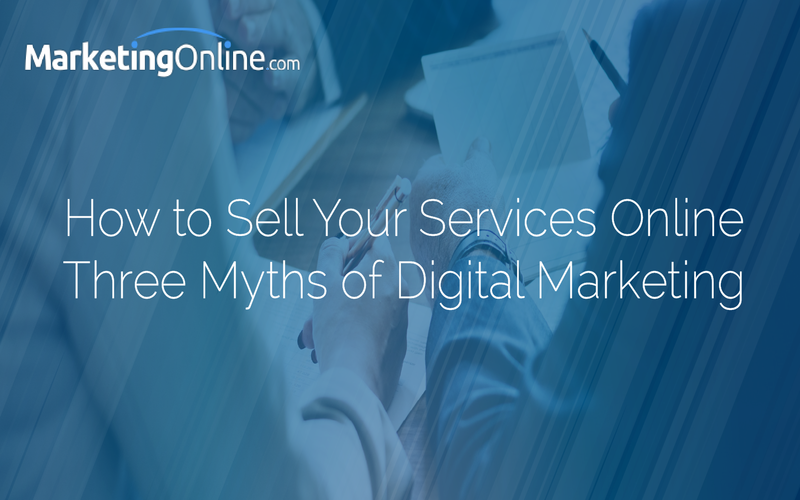 Argh!  I still see it too often!
Speakers, Consultants, and Service Professionals holding themselves back from their biggest dreams… just because they hold a couple of false beliefs! 
Myths!
Bust through these and you will be able to sell your services online even better than before!
Myth #1 – Lowers your prospecting costs and can help you advertise for free!
Myth #2 – What to do today to connect with quality prospects – and convert them into clients!
Myth #3 – Virtual book turned New York Times bestseller… without an email list!
Everybody knows digital marketing is the fastest and easiest way to find clients — and stay connected to them for life…
At least, I thought everybody knew… 
But some businesses still don't take advantage of free Digital Marketing resources.
Why?
Well, there are still some lingering myths surrounding digital marketing that prevent people like you from selling your services online.
Myth #1: Digital Marketing Isn't Useful in My Business
Digital marketing for any business will lower your prospecting costs. It's high impact for follow up.
What does that mean?
Attention: Speakers, Consultants, and Service Professionals
Want to break through to your audience with your marketing, drive your sales, and motivate new people to join your high-end programs?
It means that you can reach a lot of people with your message, product or service — for no money. A business that gets to advertise for free, where people hang out every day, is a dream come true.
How? 
By taking advantage of free social media platforms.
"But I'm a dentist, how can I take advantage of social media to make it work for my business?"
Well, how have you always found and stayed connected to your patients?
Postcards?
Brochures?
A big sign out front?
With digital marketing you can stay connected to your patients and build your database. You can also network to reach new prospective patients.
Myth #2: Digital Marketing Requires A Lot of Website Traffic
False.
When you spend time on the web now is most of your time spent at websites or on social media?
Be honest.
According to Pew Research Center as of March 2018, roughly 68% of adults spend time on social media…
Three-quarters of those are on Facebook daily. 75% of U.S. adults spend a good amount of their internet time on YouTube.
Do yourself a favor and optimize your latent social media pages.
Do it today!
Then, start connecting (or re-connecting) with your patients, clients and potential customers.
Next, get on the phone with them and find out how you can help them. 
Finally, if they qualify, make them an irresistible offer.  You will be surprised how many will take you up on your perfectly timed, irresistible offer.
Connecting with people is not about quantity, it's about quality. The quality of your connections is much more important than the quantity of people on your fan page.
Myth #3: Digital Marketing Requires an Email Database
Just like you don't need a lot of web traffic, you also don't need an email database to stay connected to your client base.
Why not?!
Again, most people are on social media. How many emails do you delete a day without reading?
You. Are. Not. Alone.
Tim Ferriss, author of The Four Hour Work Week, had no email database to speak of when we did his virtual book. The social media exposure for his book created buzz and led to it becoming a New York Times Bestseller.
It also made him an international speaker.
He has repurposed that book into a thriving career all without an email database when he started.
Mic drop.
Sloppy Success Is Better Than Perfect Mediocrity
Digital marketing is the most powerful form of advertising and authentic influence now. You don't need a lot of website traffic to take advantage of digital marketing's benefits.
Finally, you do not need an email database to be successful in digital marketing. Get started, keep going and connect authentically with people.